Big Red Group hosts International Women's Day 2022
Leadership for a sustainable equitable tomorrow
Big Red Group was delighted to welcome several of its esteemed supply and industry leaders on International Women's Day (IWD), where they shared insights on how they are adapting their businesses to embrace a sustainable equitable tomorrow.
Group CEO David Anderson was joined by Shannon Bailey – Merlin's Regional Trade Sales Director for Asia Pacific, Suzy Balogh – Olympic Gold Medallist and Managing Director of Hitting Targets, Judith Muir – OAM, Owner / Operator of Polperro Dolphin Swims, and Sophie Treasure – Industry Relations and Sustainability Manager at Tourism Australia.
In line with this year's IWD global theme 'Changing Climates: Equality Today for a Sustainable Tomorrow', leaders spoke of their efforts to embed sustainable practices, and hopes to influence and educate future generations.
Judith Muir spoke passionately about Polperro Dolphins starting out as a dolphin research vessel some 35 years ago, which they then pivoted into a business so they could in fact protect the very mammals they were researching. Surrounded by a team of extraordinary people with a devotion to high standards and ethics, Muir sees their role as educating the next generation as key to creating change.
"Sustainability is responsibility" says Muir. "We educate gently, and entertain greatly. It's about education of the mind and heart to give people a greater understanding." Also double hatting as a Special Olympics swimming coach, Muir says it's a rewarding vocation making a difference in people's lives, as following their experience swimming with dolphins, they have a renewed understanding, "We're all in this together."
Olympic gold medallist and founder of a successful clay target shooting business, Suzy Balogh agreed. With an ecology background, Balogh is conflicted, recognising the sport she has dedicated much of her life to, is also responsible for putting plastic out there. Balogh is firmly focused on offsetting this, collecting discarded shells on her mission to find a recyclable option, with importation of biodegradable cartridges her next move.
Sophie Treasure has seen first-hand how the focus on sustainable practices can make an immediate impact after a recent visit with experience businesses on Kangaroo Island, South Australia. Many have been forced to reinvent their businesses off the back of devastating bushfires and Covid-19, rebuilding in ways that enhance the natural landscape and regenerate flora and fauna.
Merlin Entertainment Group continues its heavy focus on ocean plastic pollution, with Shannon Bailey highlighting the plight with 26M tonnes of plastic ending up in oceans each year. Merlin continues to eradicate plastics from its attractions such as straws, and is now looking at ways to reduce paper usage, moving toward digital only tickets.
Naomi Simson, Co-Founder and Non-Executive Director of Big Red Group also joined the discussion, drawing attention to the fact that this year's IWD theme 'breaking the bias' was a responsibility that everyone has, "People need to ask themselves, what can I do, what can we do – it takes leaning in to make a change, every choice that we make."
Balogh agreed, "I constantly check in with myself, check that I'm not the one with a bias – thinking deeply about decisions." As the daughter of a Hungarian refugee, Balogh has constantly followed her father's advice, shaping her into the sportsperson and businessperson she has become, "My father always told me that through applying my brain, I can achieve it. Mind over matter has always stood for me."
As the panel conceded, defining success is different for everyone. For Treasure, it's about sharing the wins, and thriving on positive outcomes. For Bailey, it's about delivering and exceeding goals, and building a best-in-class team. And for Muir, it's about richness and spirit, "It's not about making money. Success is about children; they will come and ask questions. If we can contribute to that, helping them to fall in love with something. Helping them to understand what they are seeing. It opens their eyes to another world."
At the conclusion of the event, Anderson thanked the panellists for their thought-provoking insights, and Muir left a lasting impression on Big Red Group employees, "The most important thing is legacy, that what we see and love is loved by everybody. Once they see it, they will change something in their life."
As only through change, will we achieve a sustainable equitable tomorrow.
Big Red Group's Experience Oz powers Destination Gold Coast's 'Stay
23 March 2022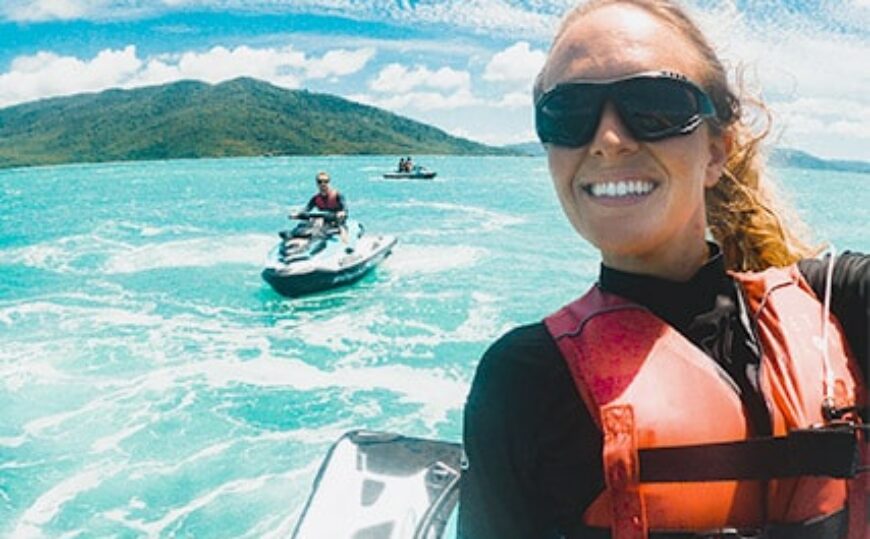 Adrenaline Partners with Tourism Queensland to Win Intrastate and Interstate
21 March 2022