Experience Oz and DCM unite
Better together, businesses to reignite North Queensland tourism
Australian owned and operated businesses recognise strength in joining together to reignite tourism sector
Sydney, 3 February 2022 – Australian owned and operated businesses Big Red Group, the parent company of Experience Oz, and Destination Cairns Marketing (DCM) have agreed to terms on a new joint venture set to benefit tourism operators and aid industry recovery in North Queensland.
The partnership will leverage Big Red Group's state of the art technology, scale and marketing capabilities as the largest experience marketplace in Australia and New Zealand, combining with DCM's 30+ years of local knowledge, deep industry relationships and strong ties with businesses within the region.
As North Queensland continues to face challenging trading conditions, with international inbound travel not anticipated to return to pre COVID-19 volumes within the foreseeable future, the joint venture comes at an opportune time as it seeks to leverage the reach of Big Red Group's audience to increase domestic volumes within the area.
Under the agreement, Big Red Group's leading domestic holiday brand Experience Oz, with more than 15 years' experience in the region, will generate demand via branded tour desks underpinned by a significant marketing investment. Its B2B platform, Experience Oz Local Agent will supply the technology to support activity bookings across the 130+ hotels currently working with DCM, providing more advanced capabilities such as in-room activity booking via QR codes and lobby booking kiosks.
It's a win-win partnership set to drive much needed growth across the sector, with hotels, guests, tour and experience providers all set to benefit under the landmark partnership. Operations will be vastly streamlined, while hotel guests will have access to a more extensive range of experiences across the region, with tour and activity suppliers currently listed with Experience Oz to be introduced into the hotels.
Since acquiring Experience Oz and Experience Oz Local Agent in late 2021, Big Red Group has begun to invest significantly in scaling the brands, as done successfully with other brands in its portfolio such as RedBalloon and Adrenaline. As Big Red Group grows Experience Oz into a household name, it is anticipated that consumer uptake on Experience Oz offerings at hotel concierge desks will also increase.
David Anderson, CEO of Big Red Group comments:
---
"We're absolutely delighted to have forged this agreement with DCM, a well-known and highly respected family owned and operated business which has embedded itself within the North Queensland tourism sector since 1986. We know how tough it has been for the tourism industry as a whole, with Cairns and surrounds being particularly hard hit."
---
Anderson continues, "Despite Experience Oz and DCM having been respectful, if fierce competitors in the past, we recognise that we are better together, pooling our resources and expertise which will ultimately deliver much better outcomes for all stakeholders. We have established a fantastic working rapport with DCM owners Denis Donaghy, Sam and Greg Ferguson, and have every confidence in their capabilities to execute this on the ground."
DCM will continue to champion and grow local tourism, while working closely with Regional Tourism bodies and Cairns based Experience Oz representatives. Meanwhile, Big Red Group continues to proactively strengthen relationships with State and Federal Government, committed to centrally representing more than 2500 experience suppliers that it partners with, ensuring they have a voice at the table.
Sam Ferguson, General Manager Commercial for DCM comments:
---
"This is an incredibly exciting partnership which will bring a significant boost of momentum and generate new demand for the area. We are a team of locals, who have always prided ourselves on delivering exceptional outcomes to our partners. Big Red Group has an impeccable record in building trusted brands and long-term mutually beneficial partnerships. We are looking forward to working collaboratively to bring this new venture to life, and aim to play a key role in driving tourism recovery within the region."
---
Sam Ferguson has been appointed CEO of the joint venture which will come into effect on April 1st, and he will continue to lead day-to-day operations for DCM.
Big Red Group's Experience Oz powers Destination Gold Coast's 'Stay
23 March 2022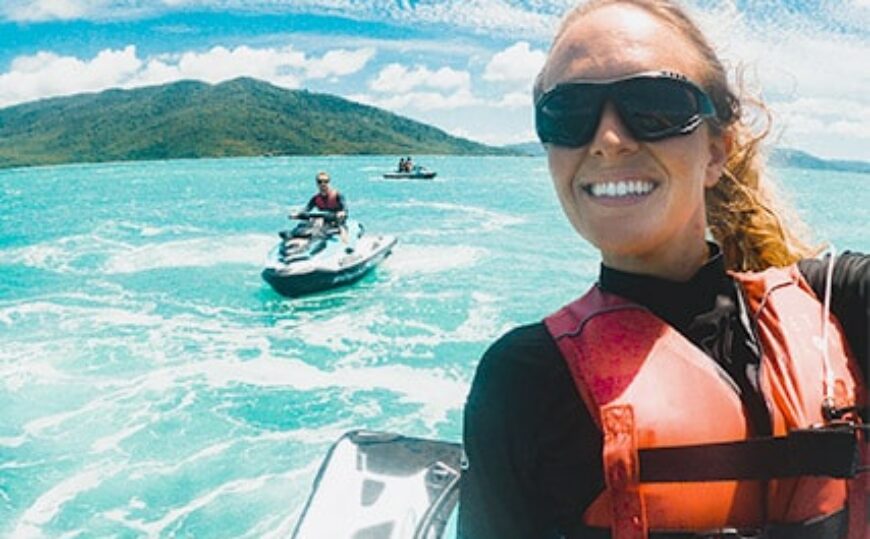 Adrenaline Partners with Tourism Queensland to Win Intrastate and Interstate
21 March 2022